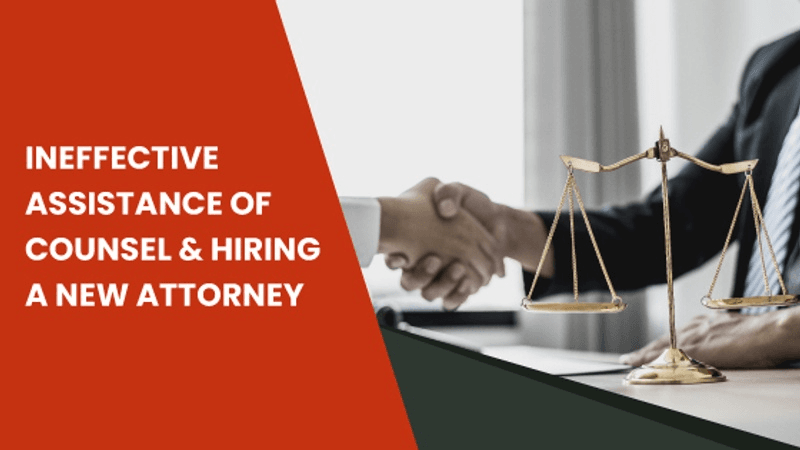 If you have had any involvement with the criminal justice system here in Oklahoma, you may have experienced frustration with the process. Being charged with a crime – or having a family member facing criminal charges – can be incredibly scary and overwhelming. Unfortunately, there are situations where the lawyer that is supposed to help you does a poor job advocating for you.
Under the U.S. Constitution, defendants in criminal cases have a right to effective legal representation. If your criminal defense attorney was incompetent in some way, your conviction may be overturned or vacated. This rule applies regardless of whether you were appointed a public defender or if you hired a private criminal defense attorney.
In Oklahoma City, our attorneys aggressively defend clients accused of all types of crimes. We also represent people in ineffective assistance of counsel cases, either taking over during an ongoing criminal case or appealing a conviction. Reach out today to schedule a consultation with an OKC ineffective assistance of counsel attorney.
What Is Ineffective Assistance of Counsel?
The Sixth Amendment of the U.S. Constitution guarantees defendants in criminal cases the right to a fair trial. As part of this right, the United States Supreme Court has held that criminal defendants in both state and federal cases have the right to be represented by an attorney. More importantly, this right to counsel is the right to effective assistance of counsel.
At its core, ineffective assistance of counsel means that an attorney representing a defendant in a criminal case did not act competently. If an individual can prove that they received ineffective assistance of counsel, then the remedy for this violation of their constitutional rights might be to overturn or vacate their criminal conviction.
Under federal law, the standard for ineffective assistance of counsel requires proof that (1) counsel's performance was deficient; and (2) this deficient performance must have prejudiced the defense to an extent that the defendant was deprived of a fair trial. Oklahoma has adopted this rule, which is known as the Strickland rule.
To prevail on an ineffective assistance of counsel claim, the person appealing the conviction (appellant) must prove that their attorney's representation was unreasonable under prevailing professional norms and that their action could not be considered a sound trial strategy. They must also show that, but for any unprofessional errors committed by counsel, the result of the proceeding would have been different.
While many defendants in criminal cases believe that their lawyer provided ineffective assistance of counsel, it can be hard to prove this to a court. Judges are reluctant to find that an attorney's tactical decisions or trial strategies were unreasonable. In addition, an appellant must be able to show that they were actually prejudiced by their counsel's unreasonableness – which can be difficult to prove.
Ineffective assistance of counsel may include cases where an attorney:
Fails to investigate an alibi or seek out alibi witnesses;
Does not conduct DNA testing;
Does not enlist experts to challenge the prosecution's physical evidence;
Has an unreported conflict of interest;
Fails to object to unlawful search and seizure;
Falls asleep during proceedings;
Does not attend hearings; or
Fails to investigate the prosecution's witnesses.
Importantly, some of these examples are taken from real cases – and a court did not find that there was ineffective assistance of counsel. For example, a Michigan man was convicted of a number of charges related to his alleged shooting of another man. Even though his attorney fell asleep while he was being cross-examined by the prosecution, a federal appeals court found that there was no ineffective assistance of counsel because he could not demonstrate prejudice.
This does not mean that an individual or their family should not seek to overturn a conviction based on ineffective assistance of counsel. There are many cases where courts have found that a lawyer provided ineffective assistance of counsel. The best way to determine if you may have a potential claim is by consulting with an OKC ineffective assistance of a counsel lawyer.
What Can You Do If You Have Experienced Ineffective Assistance of Counsel?
If you believe that your attorney provided ineffective representation, then there are several possible options depending on whether your case is currently pending or is closed. If your criminal charges are still pending, then you may hire a new criminal defense attorney. In some cases, your new lawyer may be able to request a new trial due to ineffective assistance of counsel.
Alternatively, if you have already been convicted of a criminal offense, then you may file an appeal based on ineffective assistance of counsel and the violation of your constitutional right to a fair trial. You will have to prove that your legal representation was unreasonable in some way and that their deficient performance deprived you of the right to a fair trial.
If you are able to meet this burden, then the appeals court may reverse your conviction and order a new trial. If the ineffectiveness happened during sentencing, then your sentence may be vacated and you will be resentenced.
While it can be difficult to win on an ineffective assistance of counsel appeal, it is possible. You can also hire a new OKC criminal defense attorney to take over your case if you believe that your current lawyer is not providing effective counsel for you or for a family member.
Zealous Representation for Individuals Facing Criminal Charges in OKC
If you have been charged with a crime in or around Oklahoma City, you will need a top-notch criminal defense attorney to defend you. A skilled attorney will investigate the facts of your case and use their knowledge of the law to fight for your rights – and your freedom.
At Oklahoma Criminal Defense Lawyers Group, we are dedicated to helping people who have been charged with all types of crimes – and those who have been harmed by ineffective assistance of counsel. We work hard to help our clients achieve the best possible outcome based on the facts of their case. To learn more or to schedule a free consultation with an OKC criminal defense lawyer, give our law office a call at (405) 250-6769 or fill out our online contact form.