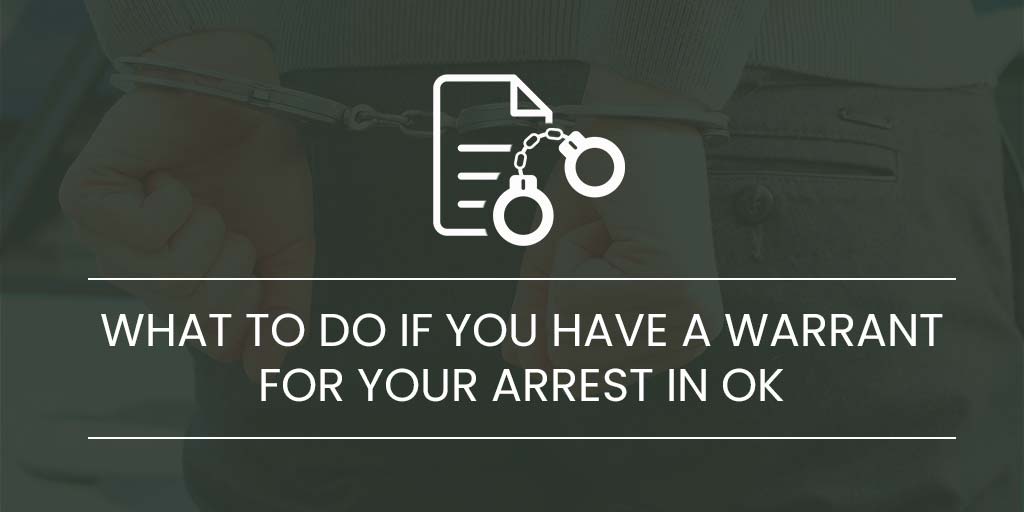 Discovering that an arrest warrant has been issued for you can be a surprising and scary experience. For many people, it brings to mind images such as TV bounty hunters knocking down their front door, putting them in handcuffs, and dragging them off to jail.
Fortunately, that's not quite how it works. If you act responsibly and handle things quickly, you can take care of the warrant without going through any sort of embarrassing arrest and minimize the consequences. Speaking first with a defense attorney experienced in dealing with Oklahoma arrest warrants will give you the best opportunity for a good outcome.
Oklahoma Arrest Warrants And Bench Warrants
There are two types of warrants that can be issued in Oklahoma: arrest warrants and bench warrants. An arrest warrant is issued if you are suspected of committing a crime but were not already arrested by the police for whatever reason. A bench warrant is issued for failure to appear in court. Bench warrants can be issued for failure to appear for both criminal and civil cases.
Both types of warrants have the same effect. Once issued, you can be arrested by law enforcement at any time. In some cases, the police will come looking for you—either immediately or at some time after the warrant has been issued. You might also be arrested during any random encounter with a police officer. If, for example, you are involved in a traffic stop because a light on your car is not working, when the police officer runs your name he will be notified of the warrant and you will be arrested.
Possible Penalties For An Arrest Warrant In Oklahoma
If an arrest warrant was issued for you because you are suspected of committing a crime, the possible penalties will depend on what crime you are being charged with. In most cases, if you surrender or are arrested, you'll be advised of your rights and have the opportunity to post a bond as with any other criminal case.
Possible Penalties For A Bench Warrant In Oklahoma
Criminal charges can be brought against you for failing to appear in court. According to 59 O.S. § 1335 if you willfully fail to appear in court and do not surrender within 30 days you, "shall be guilty of a felony and shall be fined not more than Five Thousand Dollars ($5,000.00) or imprisoned not more than two (2) years, or both."
If you failed to appear in court after a previous posting bond, you will nearly always forfeit the original bond and if you are granted the opportunity to post bond again it will likely be two or three times higher. If you were originally released on your own recognizance, you will almost certainly have to post a bond to avoid time in jail. Your driver's license may also be suspended. It becomes more likely that you will receive a harsher sentence if you are convicted of the crime for which you've been accused as well.
What Should You Do If There Is A Warrant For Your Arrest?
If you are notified or otherwise discover that a warrant has been issued for your arrest in Oklahoma, you should contact a qualified Oklahoma defense lawyer immediately.
In the best-case scenario, if you surrender with the help of a defense attorney and a bail bondsman, you will simply be processed in and then immediately processed back out having posted bail. You won't have to spend any time in jail and will just be expected to show up for your next court date.
If you can't afford to pay a bond, you are entitled to request a bail reduction hearing but your lawyer will have to file the motion and argue for you at the hearing.
If you have missed a court date, think you might have missed a court date, or have learned that a warrant has been issued for your arrest for any other reason, you should enlist the help of a defense attorney immediately. If you are picked up by the police for a warrant, it's already too late.
By working with an attorney and taking a proactive approach to the situation, it may be possible to avoid a felony failure to appear charge and bond forfeiture. A defense lawyer may also be able to have the warrant dismissed.
As an Oklahoma City defense attorney, I will fight to protect your rights and work to achieve the best possible outcome for your case. A consultation is free and confidential. You can contact me online anytime or call (405) 510-0345 to schedule an appointment.